GLO Juice wins 'Break Through Brand of the Year' award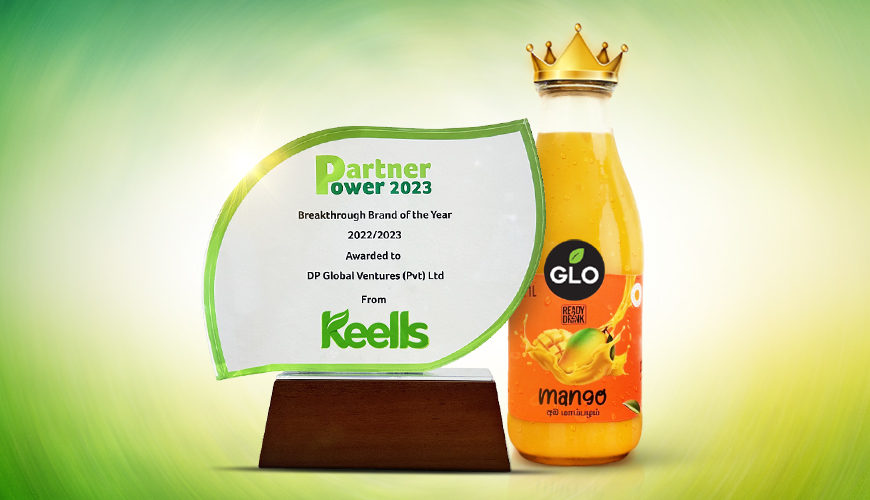 13th February 2023
GLO juice, produced and marketed by D P Global Ventures (Private) Limited (DPGV), the food and agriculture arm of the David Pieris Group of Companies, has won the 'Best Break Though Brand of the Year 2022/23' award at the Partner Power 2023 awards ceremony, the annual Keells Supplier Convention.The award was presented to GLO juices, which had 8% of the market share in the overall Beverage Category and the largest market share in the Juice category where sales grew by 80% during this period. This is a significant achievement since GLO Juices got onto Keells' shelves just 07 months prior to the award. This is also the inaugural award for this category.

GLO juices are produced with 100% natural extracts from locally grown fruits and no additives or preservatives use in them. Currently, GLO juices are available in mango, pineapple, passion fruit and lime & ginger flavours.DPGV manufactures a range of organic and value-added Agri-products for the local and export markets. In operation for over 6 years, its product range includes dehydrated fruits, juices, king coconut water, spices, jams, noodles, sauces, etc. The unique feature of the process is the company's backward integration with the farming community to uplift their livelihood. DPGV has a proven track record in exports to Europe, UK, Australia, Japan and the USA, under its own brand as well as private labels.

The Keells Partner Power 2023 Awards night held on 09th February 2023. The annual event organised by the Keells to thank their suppliers for working with them towards their core purpose of improving the quality of life for the nation.